Monroe, NC Pest Control
From Mosquito To Termite Control The Service You Deserve
You deserve a safe, healthy home. At ValuePest, our team knows how to remove any kind of pest from your yard and home and prevent future invasions from taking place. Our Monroe pest control team is passionate about providing accessible, affordable, and effective treatments, which is why we have pioneered "The Way Pest Control Should Be®."
Each of our experts in Monroe pest control services are carefully trained and equipped to handle all of your pest removal needs in just one visit. No matter the pest you are dealing with and no matter the extent of the problem, we are here to help.
Sign up for year-round protection against pests. Call or send us a message online to learn more about how our Monroe pest control experts can help you.
Getting Started Is Easy
3 Easy Steps to a Pest-Free Life
The ValuePest Ultimate System is the one and only pest control service you'll ever need.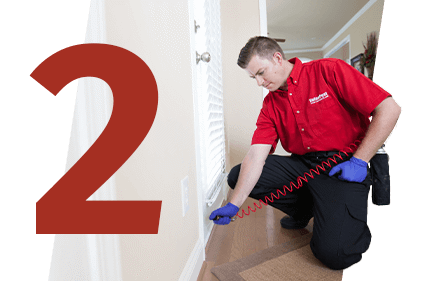 Schedule Your Next Service
Our service experts will schedule a bi-monthly visit to perform our treatments.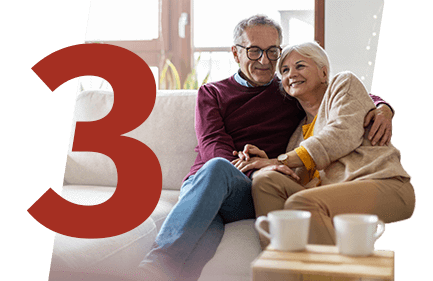 Sit Back & Enjoy a Pest-Free Home & Yard!
You'll never have to worry about additional charges for pest control services ever again.
Our ValuePest Ultimate System
In the last three decades, we have perfected our revolutionary treatment program. Our service, ValuePest Ultimate System, provides year-long protection against all pests with no extra fees! Unlike most other companies, our Monroe pest control service doesn't exclude certain pests such as termites, mosquitoes, and bed bugs. Instead, those pests are all completely covered under our contract, which means, we will never charge you an arm and a leg for these "extra" services!
ValuePest is so committed to affordable pest control, that we haven't changed our pricing since we opened our doors in 1989. If you pick up the phone and give us a call right now, you'll receive your first service 50% off. For such a low price, you will receive termite treatment every five years and bi-monthly pest removal treatments, which protect your entire home and yard from all pests.
This pricing is unbeatable. In fact, if you happen to find any pest control team in the U.S. that provides these services for less money, we will give you an entire year of pest treatments for free!
Sign Up for ValuePest Ultimate System Today
ValuePest provides the pest control you deserve. Unlike other pest control companies, we do not exclude any pests from our service just to charge you an arm and a leg for these "extra" services when you need them most. You will never be charged more for specialty pests such as bed bugs or termites when you sign up for our ValuePest Ultimate System service and you'll get 50% off your first service! This revolutionary pest treatment program includes termite treatment every five years and bi-monthly treatments to keep your entire home and yard pest free all year long. Our team uses the highest quality products and state-of-the-art equipment to control insects and rodents and keep them out of your life.
Make the right choice for your home and sign up for total pest protection today.
We deliver total pest control the way it should be! Call (866) 366-8683 to sign up for ValuePest Ultimate System today.
How Are We Different?
Our ValuePest Ultimate System Protects You Against All Bugs
Satisfaction Guaranteed or Your Money Back
We are so confident in our services, that we will give you your money back if you're not 100% satisfied.

No Extra Fees for Any Pest Problems
Our service professionals provide bi-monthly services to your home and yard in order to control every pest.
How to Tell if You Have Bed Bug Bites
If you're covered in bug bites, you need to know what insect they came from. If you have found bites on your neck, arms, legs, face, hands, or shoulders, it is possible that you have a bed bug infestation.
In addition to the locations of these bites, other signs of bed bug bites include:
Raised itchy bumps with a clear center
Small red bumps surrounded by hives or blisters
Burning, painful bites
Bites that are in a line
Bites that follow a zig zag pattern
A red bite with a dark center
Another way to determine if you have bed bug bites is to carefully examine your bed. If you find bed bugs, shed skins, egg shells, blood stains, or tiny brown spots on your mattress or bedding, it is time to call our Monroe bed bug control team.
Monroe Termite Control Technicians At Your Service
Termites will settle their colonies wherever they can find a food source. They thrive in dark, cool soil and feed off of decaying or dead wood. In order to prevent them from making themselves at home in your yard or house, it is a good idea to know what attracts them in the first place. They are drawn to piles of wood, dead trees and stumps, mulch, clogged gutters, excess foliage, trees, and more.
How To Prevent The Need For Termite Control
1. Keep wood off your soil – If your home's wooden floorboards are up against the soil, then termites have easy access into your home. If you can it's best to elevate your home off the soil or at the very least use concrete as a buffer between your home and the wilderness.
2. Dehumidify your home's foundation and any crawl spaces – Part of the reason termites thrive in the Carolinas is because moist conditions allow them to breed and feast easier. With a properly working gutter and draining network you should be able to rid your property of rainfall, but still moisture can slip between the smallest cracks so it's a good idea to install a dehumidifier in questionable places to avoid needing our Monroe termite control experts.
3. Avoid using too much mulch – While mulch isn't the best food source for termites, it does insulate them from extreme temperatures and provide them the moisture they depend on. Consider gravel or rock alternatives and if you do have to use mulch, make sure it's not coming in direct contact with your home.
4. Fix slab leaks promptly and keep moisture away from your foundation – Slab leaks can cause all sorts of problems. They can not only throw off your home's foundation but they can also provide the type of environment that termites like for.
Call our Monroe termite control experts to get rid of them for good.
How to Keep You From Needing Mosquito Control
Are you tired of mosquitoes taking over your yard each summer? It seems like every time you step outside, you're immediately accosted by these buzzing, biting insects. Luckily, there are a few things you can do to lower the number of mosquitoes in your yard.
To prevent mosquito control try the following methods:
Remove standing water sources – Places such as tires, birdbaths, overwatered pots are perfect breeding grounds for mosquitos as it allows them to lay their eggs.
Plant citronella, horsemint, marigolds, or other mosquito-repelling plants – While most will use DEET, there are a lot of natural repelling agents that can help you prevent the need for our Monroe mosquito control experts.
Keep trees and shrubs trimmed – Since mosquitos need shade in order to survive the hotter temperatures, it's important to keep your foliage trimmed so they have fewer places to hide from the sun.
Reconsider your lighting – Consider Placing mosquito candles, special repelling lamps, or other mosquito-repelling items in your yard to ward off the pesky intruders.
Remove excess foliage from the gutter – A dirty gutter is the perfect place for mosquitos to lay their eggs because the leaves will block water and create the perfect breeding conditions for mosquitos.
Utilize fans to throw mosquitos off balance – Since these pests are incredibly light, fans can be used to blow them off their current trajectory and throw them off to prevent the need for mosquito control
What To Look For In A Pest Control Company
1. Reviews – Having provided Monroe pest control services for so long, we've collected a ton of rave reviews. Read through our reviews here and give us a call to become our next happy customer today.
2. Refer a friend program – We know that word of mouth and reviews from friends mean the world to everybody. You can save even more off your pest control services in Monroe or the surrounding areas by telling your friends about us.
3. 100% satisfaction or your money back – We believe in our Monroe pest control services so much that we guarantee your satisfaction and if you don't see the results you need, you'll get your money back. You can read through our ValuePest guarantee at your leisure here and rest assured knowing that your pest control problem will be taken care of.
For Monroe mosquito control or any other pest control in Monroe or surrounding areas, call ValuePest today!